Vitamins and Supplements
There are a few times in life when you don't want to bargain shop:
1. Parachutes
2. Scuba Diving Gear
3. Surgeons
4. Tattoos
5. Supplements
The supplements listed here are the exact same ones I personally take.  You'll notice that we don't carry 400 different kinds of products.  I just don't think it's necessary to take two handfuls of pills every morning.
The vitamins and supplements we sell meet these standards:
1. They are either made personally by me or my technician in a pharmaceutical laboratory under strict conditions; the same conditions we must follow when compounding prescription medication.  This includes precise measurements of all ingredients with highly sensitive pharmaceutical equipment.  We also use only quality products purchased from the same reputable suppliers that we purchase our pharmaceuticals.  You will not be able to find these products ANYWHERE else except here…because they are my specific formulations.
2. I use, have used, or highly recommend the product. Some products are going to have the same quality standards that I have in my own laboratory.  There is no reason for me to make a product when an equivalent is available.  I've chosen these because they are a quality supplement from a reputable supplier with a good price.
I recommend everyone should take a high-quality Multi-Vitamin, Vitamin D, Omega-3 Fish Oil (with a minimum of 1000mg DHA), DHEA, ProBiotics, and Digestive Enzymes as a minimum for good health.
____________________________________________________________
Multi-Vitamin
Extend Core from Complementary Prescriptions
____________________________________________________________
Vitamin D
Vitamin D3, 5000IU from Medicine Coach
____________________________________________________________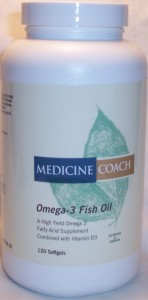 DHEA, 25mg from Medicine Coach